On January 10, 2009, a rally swept along Wilshire Boulevard in Los Angeles. Though billed as a "pro-Palestine" rally, in reality, it was far more anti-Israel and anti-America than anything else. I went with a group of fellow bloggers from the Heading Right station on www.BlogTalkRadio.com. When we got within a block or two, we could see (and hear!) the rally.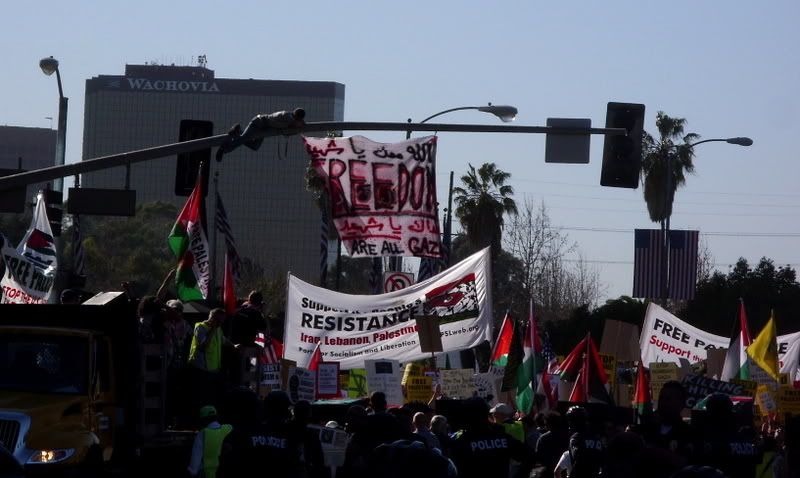 An older man of Native American ancestry walked up and down the line of Israel supporters, shouting in our faces. He was mostly challenging the men, saying that they were stupid white men, and that "the women understand, listen to them!" Funny, when he made the comment about women, he was standing with two young Jewish girls on his left, and me on his right. He didn't attempt to explain how women like us could agree with the "stupid white men." The cognitive dissonance, it burns!
(for an audio clip of this confrontation, listen to Douglas V. Gibbs show.)

A young Hamas/Palestine supporter. Her sign reads, "Israel, killing children isn't kosher." She neglected to explain how using children as human shields is kosher.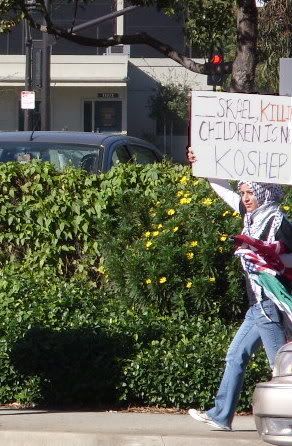 I didn't see any American flags on the pro-Hamas side of the rally, but they DID have some other interesting ones. In these pictures, you can see the Palestinian flag, the Hamas flag, the Mexican flag, the Cuban flag, and the Venezuelan flag.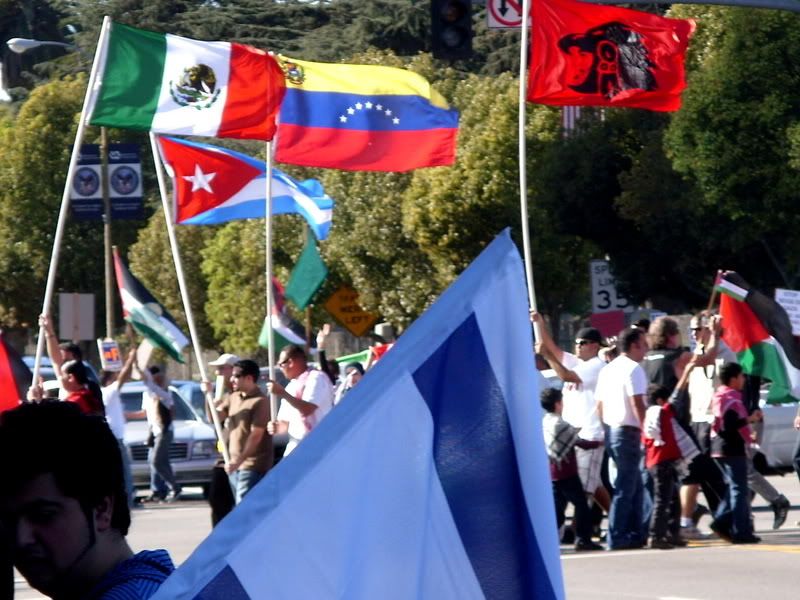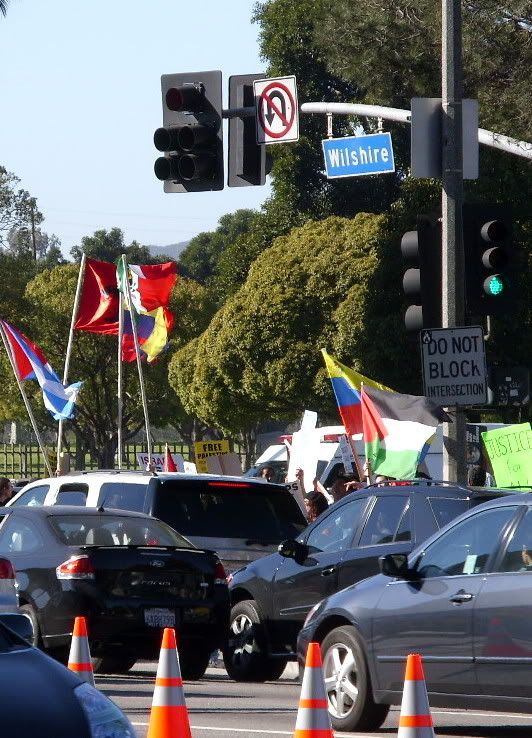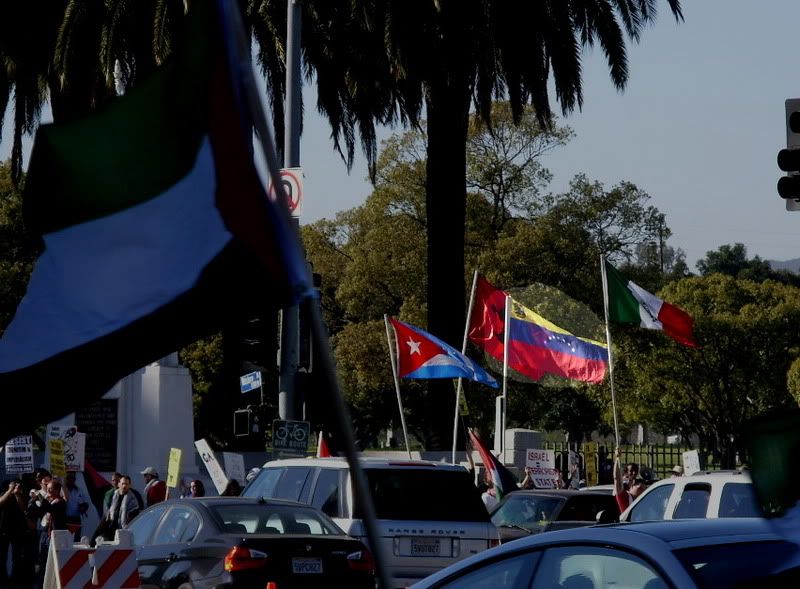 In amongst all the generic Palestinian flags, I saw this one: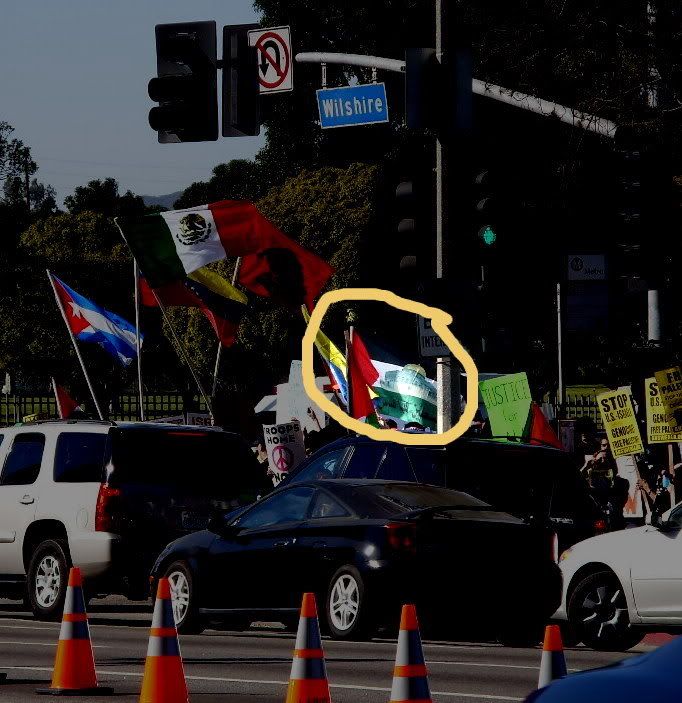 Notice the Dome of the Rock image printed on it.
Now, notice the two different messages at the protest…Here's what the signs say: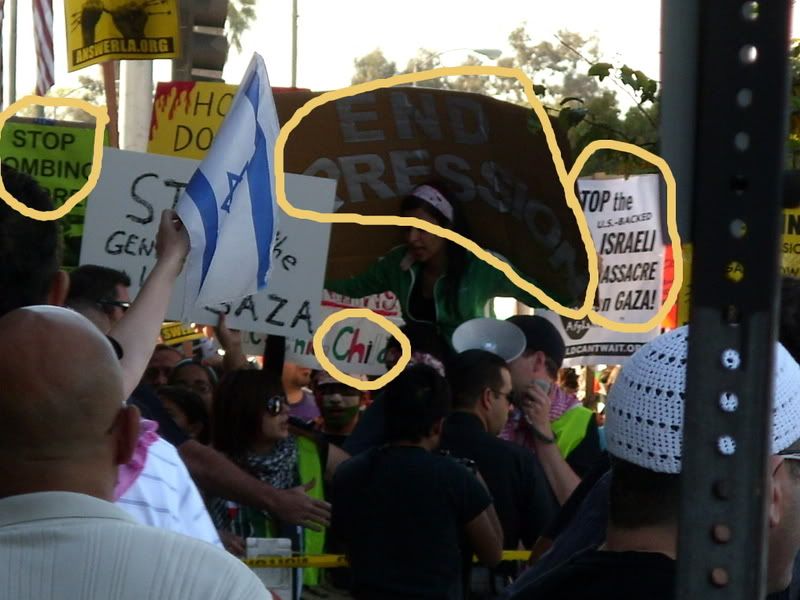 Peace, stop killing, the children, etc etc.
But what was the crowd shouting? "Intifada, intifada!" One passerby even looked at me and said "Go Hitler!" Peace rally? Not exactly.
This is the front line of the protest march.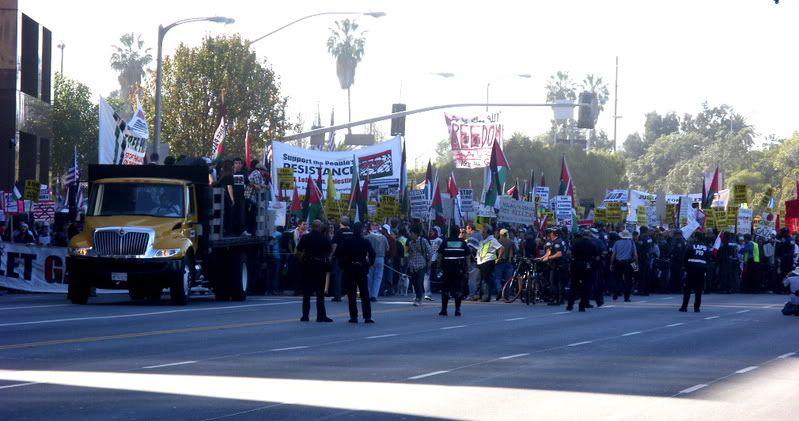 Let's take a look at several parts of it. First of all, what's that giant sign they're carrying?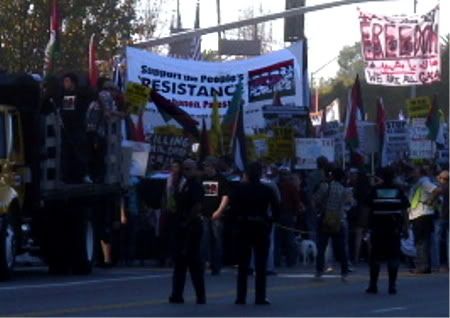 Notice that title? "Support the People's Resistance". Any doubts that this rally was highly socialistic in nature?
Obligatory ANSWER pre-printed signs: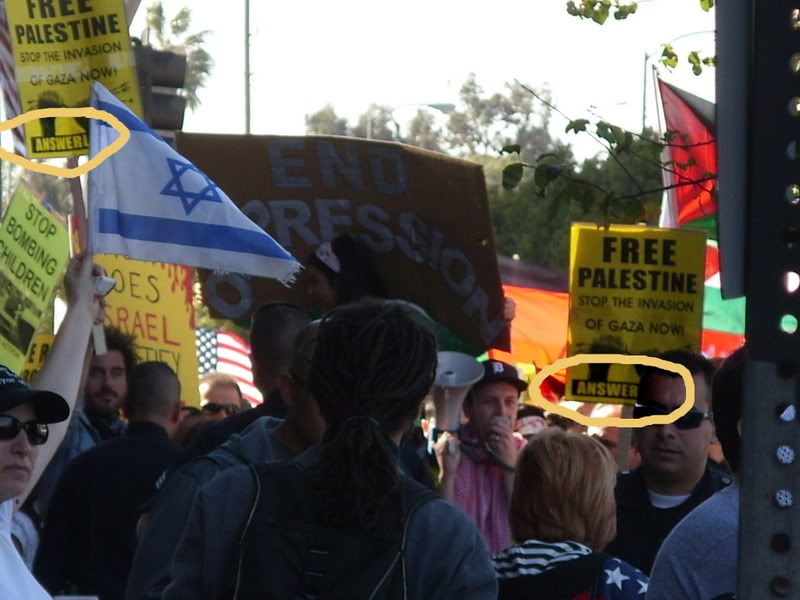 For more on ANSWER and their unabashedly Socialist worldview, see here.
The closest thing to an American flag I saw on the pro-Hamas side of the rally: the image is blurry, but there was a blue Star of David in the upper left corner, and the red stripes were covered in "bloody" handprints. There is an unmistakable swastika in the center.


And let's not forget the classic anti-Semitism memes: this guy's sign says "Stop banking on death."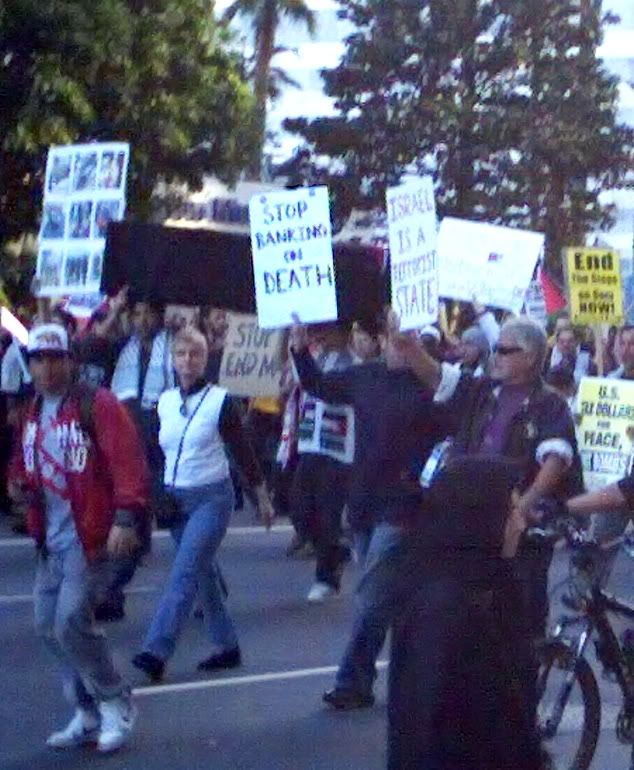 Here's a basic shot of what confronted those of us who stood for Israel…wait, what's that sign in the back ground?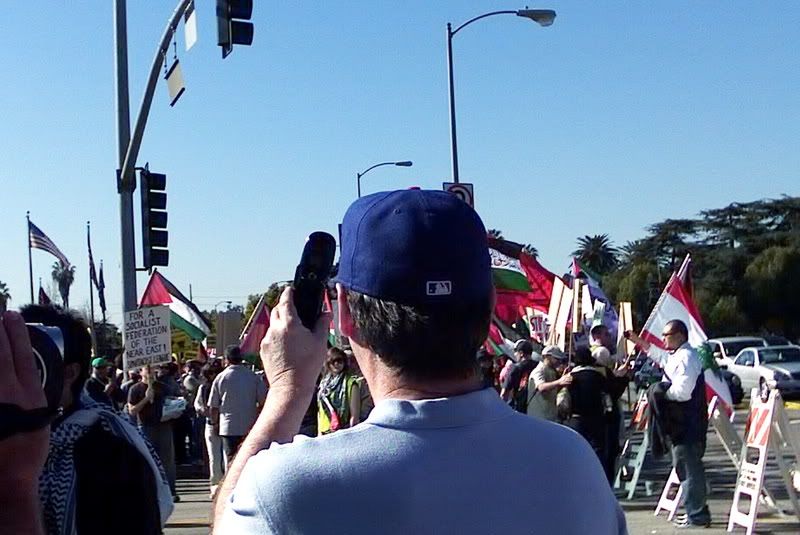 Ah yes…the Socialists.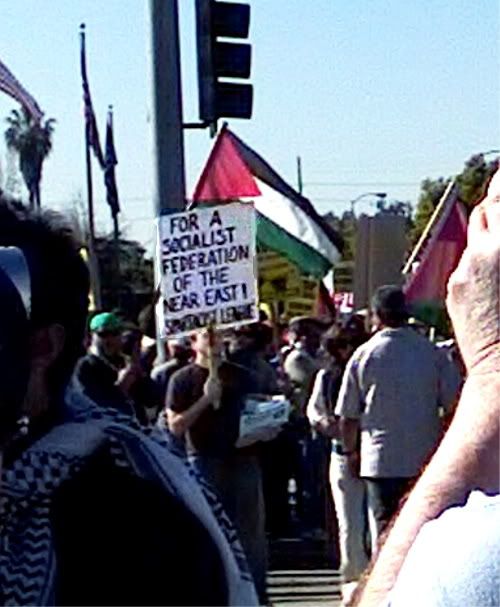 Specifically, the Sparticists, a left-wing Marxist group.
Here are some pictures of the pro-Israel crowd: we were outnumbered about 100 to 1, but I never saw anyone back down or pull away. We few, we happy few!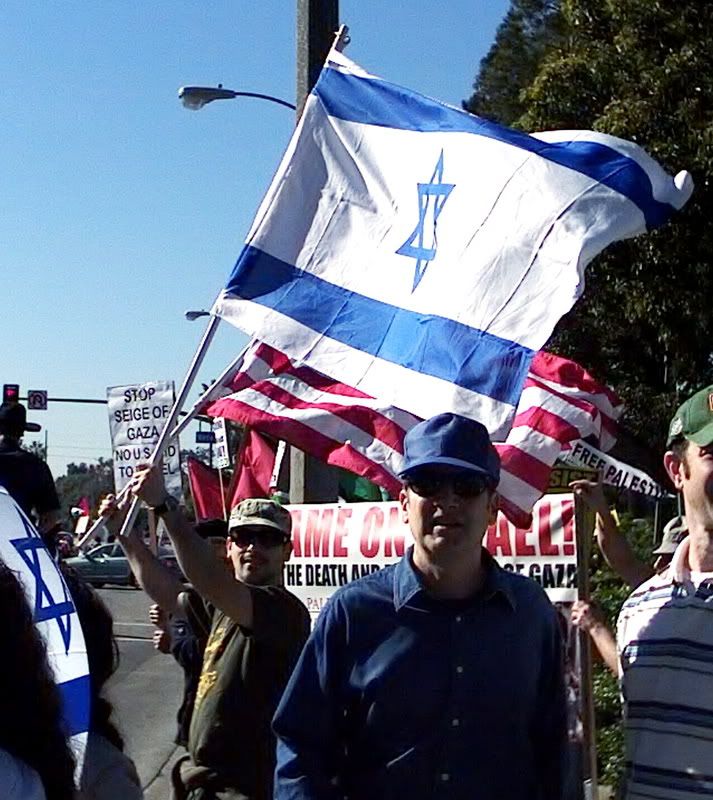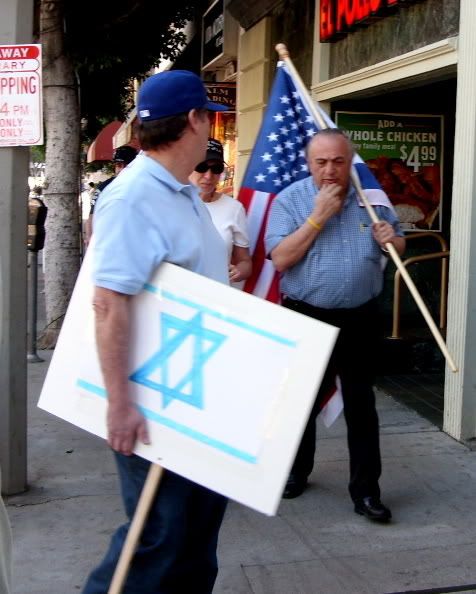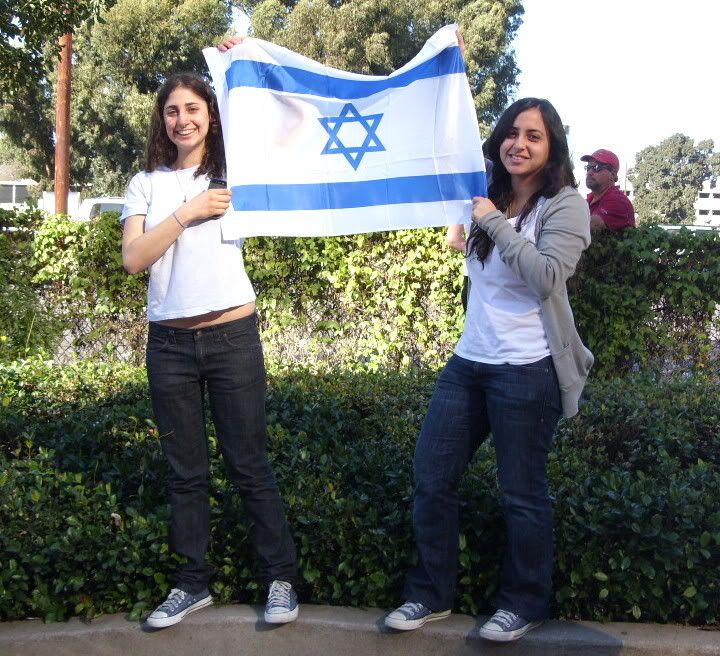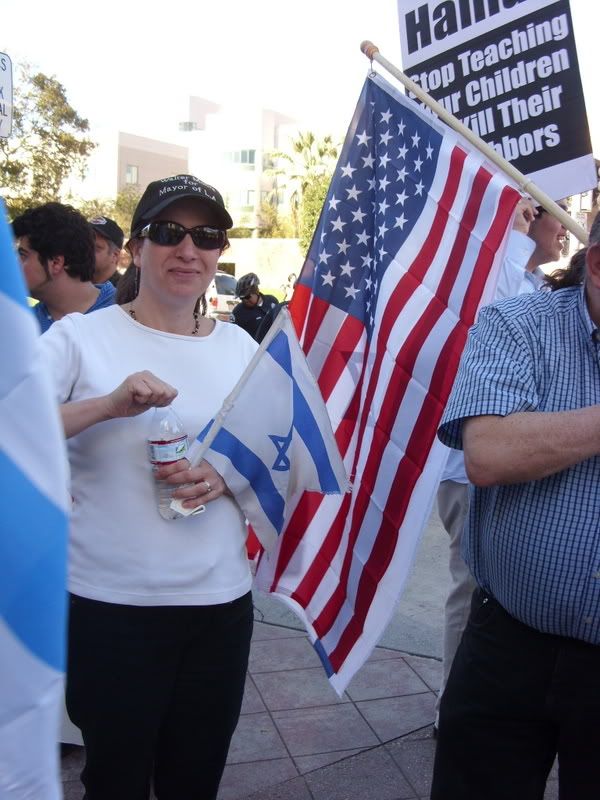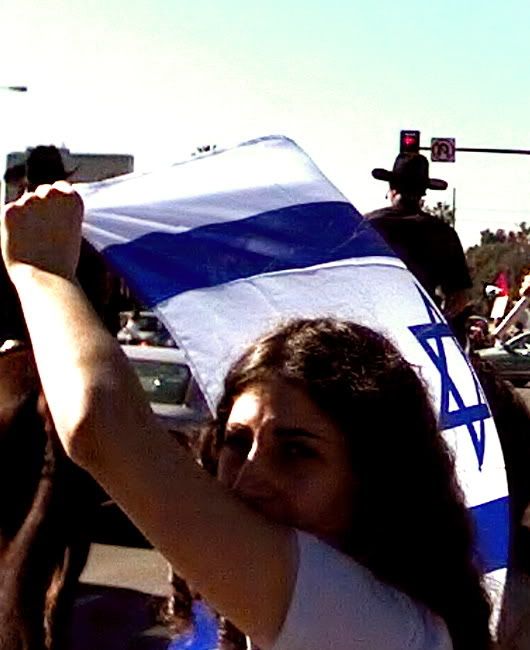 This is what it's all about: two free democratic nations, standing together against the oncoming storm.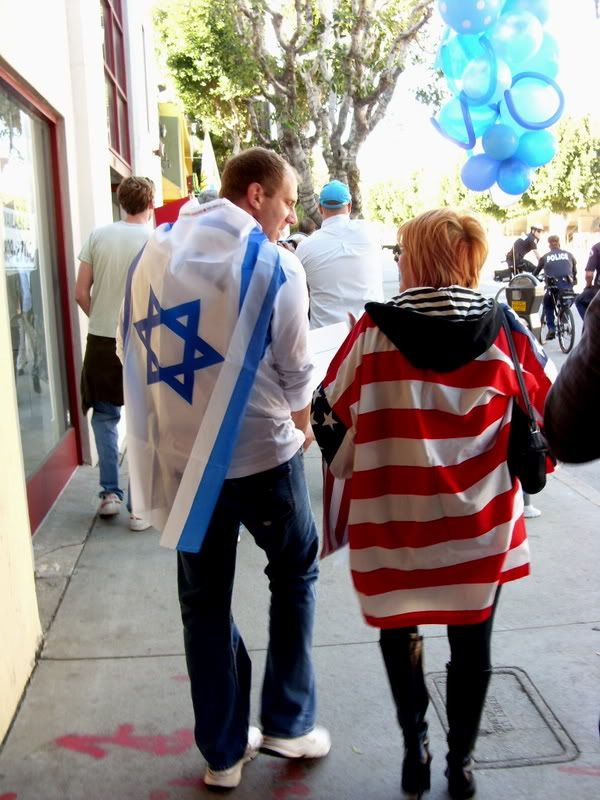 The Hamas supporters kept encroaching on our space. We weren't about to back down, but the police had to continually asked us to move back for our own safety.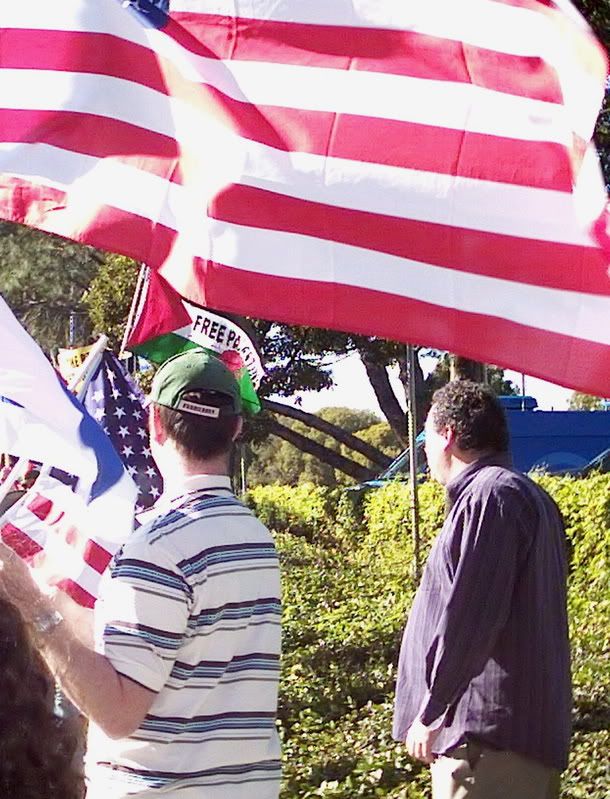 The police were very concerned for our safety, and once the march started, they didn't let us get within 100 yards of the Hamas supporters. The police were very polite to us, made sure we knew the rules, and generally kept us safe, though they did prevent us from getting close enough to the other side to get good pictures.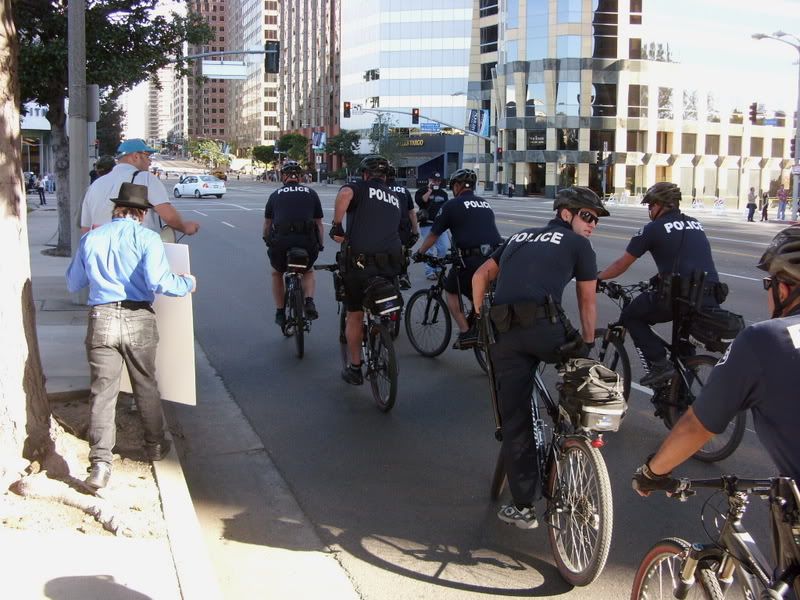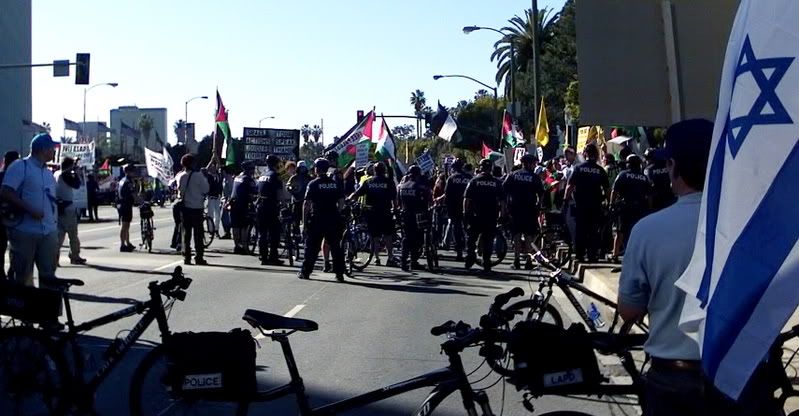 So what does it all mean? I confess I was boggled by the whole thing at first. Why would people who live in one of the freest countries in the world support one of the most oppressive regimes in history? Do they really think they'd have the freedom to stage this kind of protest in Gaza if Hamas had their way? How long do they think they'd get to wear their trendy low-rider jeans and tight t-shirts? How long would the women be allowed to marry, date, and even speak to whomever they wish?
To add to the confusion, I was puzzled by the strong socialist presence at the rally. I saw signs from ANSWER, as well as the signs promoting a "Socialist Near East," and Cuban and Venezuelan flags; many of my companions saw Che Guevara gear everywhere. And let's not forget their giant "People's Resistance" sign. What's the connecting thread?
What do Communists, Socialists, Marxists, and Hamas all have in common? Simple: a looter mentality. They want to take what others have worked to build. Do they really think that if Israel vacated their land, the jobs and industry would remain? I couldn't help but be reminded of The Ayn Rand classic Atlas Shrugs, when the "looters" take over formerly prosperous industries and run them into the ground; they're subsequently baffled when they don't succeed, and insist that the creators of wealth need to "bail them out." Success and prosperity isn't a matter of opportunity or raw materials, it's about creativity and the human spirit. If the most creative thing you can do is make bombs, you won't be able to create a thriving culture even if you have the wealth of the United States, the land mass of Russia, and the technology of Japan.
Israel protects her people and the culture that they have built: they provide bomb shelters, rocket warnings, and well-constructed buildings. Hamas uses schools as bases for launching rockets, send the children to the roofs of buildings that are being targeted by Israel, and fire their rockets indiscriminately. Hamas cares nothing for human beings–they only care about being in control, no matter who has to die.
Israel stands firm: a prosperous free nation, content to be left alone, and happy to create their own success. Hamas and the terrorists are not only willing, but eager to put their own children in harm's way in the hope of killing a few more Jews. They are the dogs in the manger, who refuse to let anyone else enjoy what they cannot have. And far too many Americans agree with them, reaching out a hand to take things that they have not worked for.
I saw no glimmer of the noble human spirit in the protesters at the rally. No desire to make a better world for themselves or their children, only a desire to take and consume what another has created. I saw no willingness to sacrifice in order to build, only willingness to destroy at any cost. The looter mentality that would take from the American people to support industries that they themselves would not willingly support is the same looter mentality that would strip the entire Middle East bare. Human pride and greed look the same, from the Gaza strip to the Washington Mall.


"Do you know the hallmark of the second – rater? It's resentment of another man's achievement. Those touchy mediocrities who sit trembling lest someone's work prove greater than their own — they have no inkling of the loneliness that comes when you reach the top. The loneliness for an equal – for a mind to respect and an achievement to admire. They bare their teeth at you from out of their rat holes, thinking you take pleasure in letting your brilliance dim them – while you'd give a year of your life to see a flicker of talent anywhere among them. They envy achievement, and their dream of greatness is a world where all men have become their acknowledged inferiors. They don't know that that dream is infallible proof of mediocrity, because that sort of world is what the man of achievement would not be able to bear. " Atlas Shrugged, Ayn Rand, page 358

More reports from the rally:
A great post with photos from the events, commentary, and links to other reports.
A live radio show from the rally.
Political Vindication radio
A map of the rally, with basic photos.
Joi Weaver is a graduate of the Torrey Honors Institute at Biola University, and is currently employed as a copywriter in Southern California. She is an avid supporter of new media, and an active participant on many conservative BlogTalkRadio shows. '