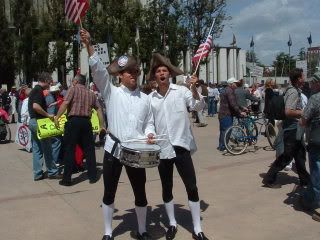 It's not clear how many attended the hundreds of "Tax Day Tea Party" events held throughout the nation today. The estimates are pouring in, but we'll never really know for sure how many showed up to protest. That's the nature of a real grassroots movement, especially on the Right.
We do know, however, that thousands of those who did attend these events did so because they are fed up with… well, with a lot of things. It seems to me that the Tea Party movement isn't as unified as it might appear – at least, the rally I attended wasn't.
I spent the afternoon at one of the Orange County, CA rallies – in downtown Santa Ana. There I saw people protest such varied things as their tax rates, the supposed cover-up of President Obama's Birth Certificate, Prop 1A, the recent DHS Report on "right wing extremist activity", government "pork" spending (there were pig balloons everywhere!), and the recent California tax hikes. There were also some calling for the recall of CA Assemblyman Anthony Adams and Governor Arnold Schwarzenegger. Here are a few shots of the crowd: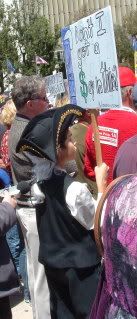 The Costumes were fun. It was like being at a Republican Renaissance Faire…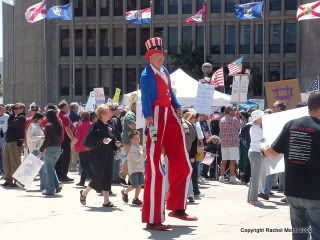 …COMPLETE WITH STILTS!

Coincidence that the DHS report referenced in this sign came out immediately before the Tea Parties? Maybe.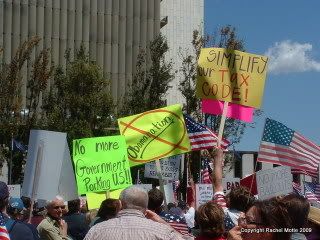 There were lots of homemade signs. Almost none of them matched any others. All were in English, wish seemed very strange to me. I don't know the demographic numbers for North Orange County, but this was undoubtedly the largest group of English-speaking Caucasians I've seen in this part of the O.C. This seems bad.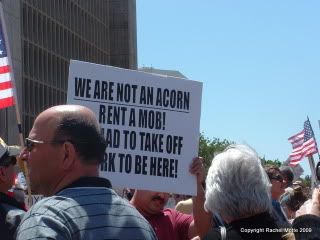 It was rumored that ACORN activists might pay us a visit, but I didn't see any; in fact, I didn't notice any anti-tea party protestors at all. (But who knows – it was crowded.)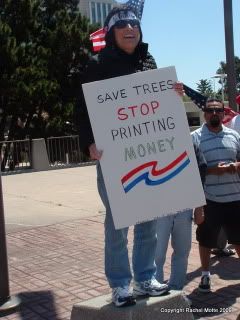 As far as I know money isn't actually printed on paper, but nice sentiment nonetheless.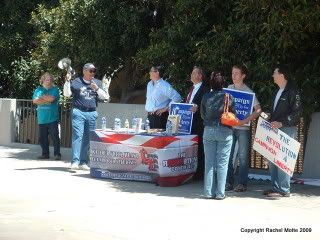 I noticed a lot of Ron Paul stuff scattered throughout the crowd.
A number of people attached tea bags to their clothing. It occurs to me that it's a good thing we didn't get a nice warm rain.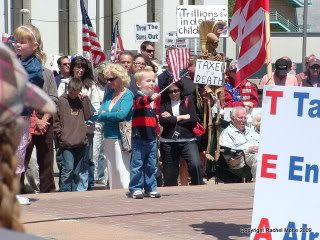 The event's youngest speaker was 10 year-old Hayden who said, "Mr. President, please don't mess with my future. Thank you."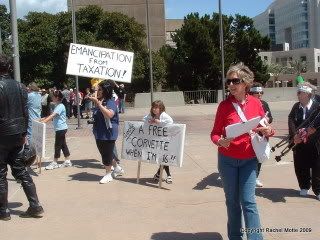 This girl has discovered the lucrative possibilities of the coming "new economy."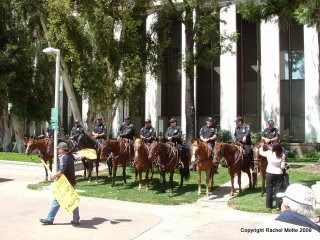 There were a lot of officers on horseback, ready with riot gear in case the group got too rowdy. They looked bored. I don't think they had much to do. I don't feel sorry for them, though, as I noticed that a number of young activist ladies developed a sudden interest in all things equine this afternoon…

Andrew Breitbart gave the last big speech of the afternoon.
The perceived success of this event could potentially affect the outcome of the next elections – if today's events went well, the Tea Party movement could generate an awful lot of energy in the grassroots. If it dies out quickly, though, as movements of this sort so often do, then Conservative activists will know they have a lot more work to do. As Hugh Hewitt said on his blog,
The real tests will be in New Jersey and Virginia where November races for governor could be impacted by the infusion of a large number of committed activists.
The Tea Party rallies could be politically significant as early as this year, AND in 2010.
It'll be interesting to see where this movement ends up. It's easy to get fired up about something big and exciting in the beginning, but harder to maintain your energy when the work gets hard and dull. Aftertheteaparty.com looks promising for now – we'll see what happens. Probably there will be a lot of medium-sized splinter groups rather than a massive, well-organized activism machine. And that's ok- the groups that can't or won't work together can improve each other through competition. '