By Joi Weaver
Wednesday, reports came in from across the country of citizens gathering in crowds by the thousands, protesting increasing governmental intrusion into their lives, protesting the use of excessive tax to pay for wasteful programs created by representatives who no longer listen to the people they claim to stand for. I attended the tea party in Yorba Linda, California, and found it the scene of energetic, but peaceful, protest.
The large crowd stood in chilly spring winds, listening to the speakers.


We had a few costumed protestors as well: a man in colonial gear carrying a modified Gadsden flag, and another in Civil War garb, who spoke to the crowd at the end of the day. The latter is a historical re-enactor, and spoke of the necessity of learning from history.
Of course, most of the signs dealt with themes of excessive taxation, insufficient representation, and loss of liberty. Here are a few of my favorites:


This girl appears to be making a fist, but she was just brushing her hair out of her eyes.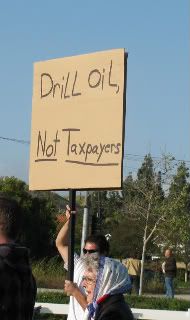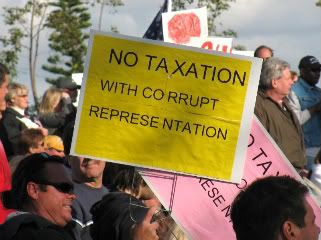 Some of the signs really struck a chord, at least with me. Here are a few of them:


The voter registration table was busy. A good sight to see.


This was probably my favorite sign of the event–I did arrive late, but I never saw any media coverage of the event. Very few mainstream media sources covered the tea parties, though some places reported coverage from local stations.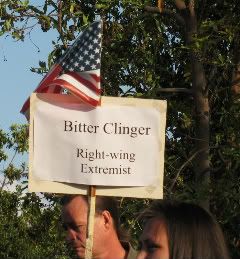 For a bunch of terrorist extremists, according to the DHS, we sure wave a lot of flags…
I followed the Tea Party coverage all day on Wednesday, both on Twitter and on PJTV.com, and was struck by something. Those who disdained the tea parties accused us of protesting the recent election, and claimed that we wished to abolish all taxes and that we had no idea of how economics work. Yet in all the protests, I never heard anyone wish to abolish all taxes, nor was the past election mentioned. By and large, the Tea Party protestors seemed well-educated about how their government works, and where the problems are.


Where do we go from here? In the end, we each have to learn to stand firm for the principles we claim to espouse. Most of us have seen the video of the belligerent CNN reporter badgering a tea party attendee in Chicago (you can see the video here. She insinuates that the man is ignorant, because his home state will get billions from the bailout and who wouldn't want that kind of pork for themselves? Let's not let this become a damning accusation of us: the revolution begins in our own hearts and lives as we commit to personal responsibility. It is, indeed, time to no longer ask what our country can do for us, but what we can do for our country.
Joi Weaver is a graduate of the Torrey Honors Institute at Biola University, and is currently employed as a copywriter in Southern California. She is an avid supporter of new media, and an active participant on many conservative BlogTalkRadio shows. '